Given you quoted prices in Pounds, I assume you're in England? The reason I ask is that your location has a big influence on not only pricing, but also the availabiltiy of certain makes/models. For example, the Smith-Corona Corsair is an extremely common typewriter and a very inexpensive one to buy in North America.

Is this the model/colour of the machine you're asking about?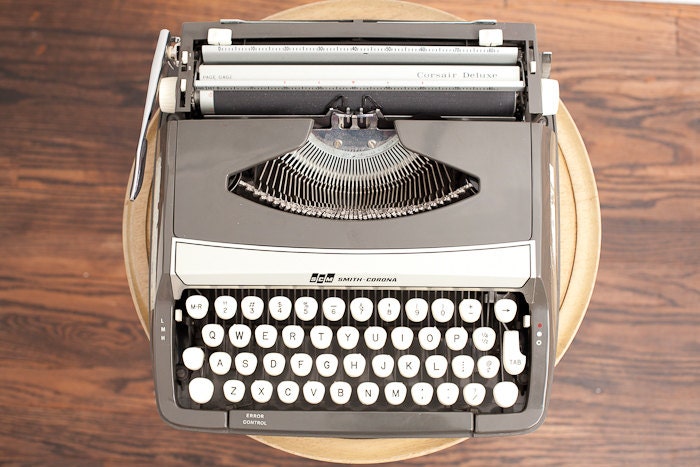 I've bought and sold Corsairs in the past, but the only one I currently owned is a private label version sold under the Singer brand name. I will admit that the grey colour model is almost never seen, the blue models are far more common, but I would strongly advise you against buying one regardless of the colour. These are not very good typewriters.

The Corsair was built during a time when the most important selling feature was a low price. Smith-Corona was in heavy competition with Brother, which had flooded the market with cheap typewriters to gain market share. The Corsair reflects a machine that was built to a low price point: It types well-enough, but everything on the machine feels flimsy. The feed rollers are one weak point and every Corsair I've owned makes loading a sheet of paper a difficult task. It certainly isn't worth the price range you mentioned, but then again I'm not familiar with pricing in your country and maybe that's what people are actually willing to pay for what is a disappointing typewriter.

I'd be happy to suggest other models that make a better purchase, but it helps to know what your criteria is. Are you looking for a certain size machine (the Corsair is a ultra-portable)? Does colour/style matter? Are you planning on only using it to type one letter a month, or a novel over the next few months? Do you want to keep within a certain price range?

If you want a solid and reliable typewriter, and your mind is set on Smith-Corona, I would suggest looking at the models that pre-date the Corsair. You can't go wrong with either a 5- or 6-series Smith-Corona. They are fantastic machines, albeit slightly larger in size.



It says Singer, but it's actually a Smith-Corona Corsair. It cost me $25, which is roughly all that it's worth.