Jews were not allowed to own typewriters for that precise reason. So that they couldn't produce anti-Nazi literature. 

That, more than anything, shows you the power of the written word. But also how powerful something like a typewriter could be, as a weapon of war. 

"I have a Remington rifle. It can shoot twelve rounds a minute!"

"I have a Remington Rand. It can type 80 words a minute!" 

Germany suffered SERIOUS shortages of everything. Ever heard of the term "jerry-rigged"? Meaning to make something serviceable by using parts from something else? That's a term that came out of WWII. It meant something that the Germans ("Jerries") had tried to make an ad-hoc repair to ("rigged") to keep it going. 

By contrast, the 'States (and to a lesser extent, the UK) were fighting a war of supply and demand. Their strategy was to overwhelm the Germans by mass production. 

You sink one ship. We build five more. You shoot down three planes, we stick another ten up in the sky. You fire ten rounds but have nothing left in the ammo-box. We fire fifty rounds and the next crate of ammo is arriving tonight on the Red Ball Express. 

The lack of German resources was a direct result of their inability to see that the WAR CAME FIRST. It came first over Nazi ideology, it came first over the Jews, it came first over Propaganda films and political rallies. The Germans concentrated so much on other things that the war suffered as a result. 

I didn't know about that issue with the Germans and female factory-workers. But then it wouldn't surprise me that such a thing happened/didn't happen. 

Moving back to typewriters, there certainly WERE legitimate German typewriters manufactured with Nazi symbols & keys and typeslugs. Here are a few examples: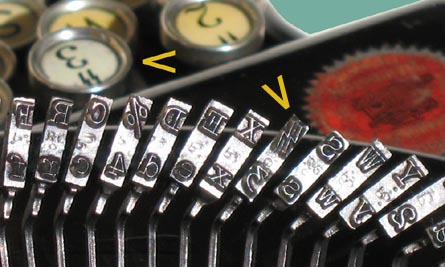 How common these machines were, I'm not sure. But they certainly did exist. The Nazis obviously decided that there was enough of a necessity/market for them, to have produced them to begin with.